Unicorn Flooring awarded UK's top business award for international trade!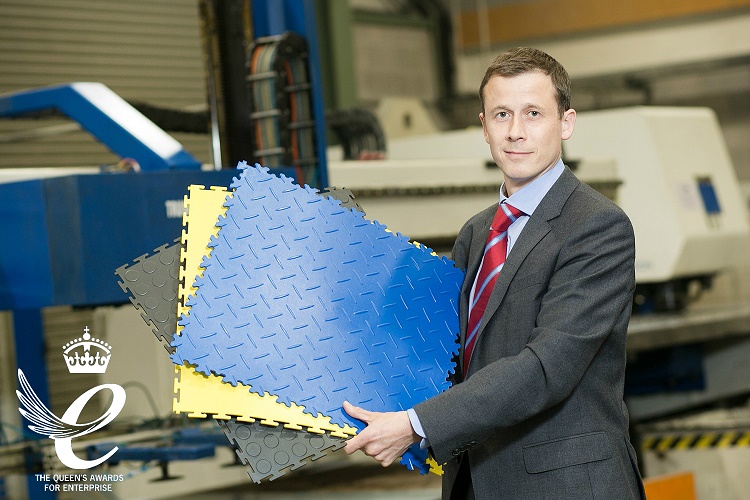 The prestigious Queen's Award for Enterprise has been awarded to the company for its exceptional work over the past 3 years, with year-on-year export sales increases over that period. Unicorn Flooring was selected after a rigorous application process overseen by a panel of industry experts.
Unicorn Flooring manufactures the world's largest range of PVC interlocking flooring solutions under the brand name Ecoloc, maintaining their position as Europe's largest producer of PVC interlocking floor tiles for both the industrial and commercial sectors.
Managing director Roger Pannell said, "I am delighted Unicorn Flooring has been recognised by the Queen's Award for Enterprise - International Trade. We have made great strides to improve our brand and product recognition factor globally and the results are evident with entry into 13 new markets in the last three years."
"I want to thank our excellent staff right across the business for all their efforts growing our sales globally including production, accounts, customer service and stores staff who all play a vital role in supporting our sales team. We are continuing to expand and will be creating additional opportunities for ambitious individuals who wish to be part of a thriving Northern Ireland business firmly established on the international stage."
The award will be officially presented by the Lord Lieutenant of Northern Ireland at a ceremony in the coming months, with representatives of Unicorn Flooring also attending the prestigious award winners' reception at Buckingham Palace hosted by His Royal Highness Prince Charles in June.
Now in its 52nd year, the Queen's Awards for Enterprise are the most prestigious business awards in the country, with winning businesses able to use the esteemed Queen's Awards emblem for the next five years.